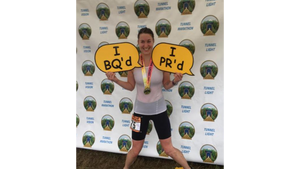 This Is Why I Run - Virginia Reinert
"In October of 1989, my Dad, Paul, ran a 2:49:50 to qualify for the 1990 Boston Marathon to be held on April 16th of that year. He often cites one of his workouts for that race - 12x1600m at 5:45 pace - as one of the hardest and most rewarding of his life. However, what he held on April 16, 1990, was not a Boston finisher's medal, but his one-day-old daughter: me. Though he later qualified again, injuries have thus far prevented him from running the race.
Fast forward to 2018. After pursuing professional ballet and contemporary dance in college and afterward, in 2016 I chose to leave the dance world. I got my master's in teaching, and my appetite for movement lead me back to my first love: running, something I'd shared with my Dad often (anytime I wasn't trying to be in peak dancing condition). In March of my first year as a middle school teacher and after running 1-2 trail half-marathons a month for almost a year, I registered for the 2018 Tunnel Light Marathon. I wasn't sure I'd make it to Boston, but I knew that with the summer off to focus on training, I had a chance. When I ran out of the tunnel and found the 3:30 pacer, and was still with that group at mile 22, I started to let the excitement build - if I could stay at 3:30 or under, I might not just qualify - I might actually get to 
run
Boston.
I crossed the finish line in 3:29:38, good enough to secure a spot in the 2019 Boston Marathon field. Though he'll be recovering from ankle surgery (in hopes of running Boston still!), my Dad will be there to watch me cross the finish line on April 15, 2019 - my 29th birthday. Since it's essentially my fault he didn't get to go that first time, I can't wait to share this moment with him. Whether we get to run "the Boston" together someday or not, this race feels like the closing of a circle - and the start of many more marathons to come!"
Are you going to Boston in 2019? We're looking to profile you, right here, in This Is Why I Run. Send your name, a running photo, and a short blurb about you as a runner to 
stories@tunnelmarathon.com
---