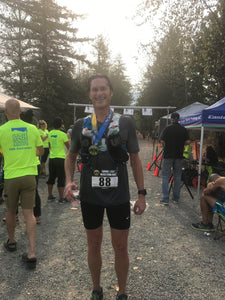 This Is Why I Run - Paul Bultema
"I ran the 2018 Boston Marathon, in the worst weather ever, after I qualified for the event through the 2017 Tunnel Light Marathon, a fantastic run and great course and day! I was hoping to beat my PR and run a ~3.23 to qualify for the Boston Marathon, and I ended up running a 3:10! I was humbled and blown away. That time and race qualified me for the 2018 and 2019 Boston Marathon.
In February 2018, I had torn the meniscus in my right knee training for a marathon in Antarctica in March 2018. Wild horses could not have kept me from that race, so I got a cortisone shot about a week before the race, and I was able to run and finish it. It was my 7th continent marathon, and a multi-year goal to complete all seven continents. In April, I had another cortisone shot in my right knee to run the Boston Marathon, and my right knee held up well.
Today [Jan 2019], I sit at home with my left leg elevated after having a significant knee surgery this past week. The meniscus in my left knee popped during mile 8 of the Boston Marathon, but I did not stop and finished the race. I had my first meniscus surgery on my left knee in May, but it did not fix it. The bone in my knee was not getting blood. After seeing many doctors, I finally found Dr. Peter Mandt, in Bellevue, and he used to be the team doctor for the US ski team. He performed my surgery this past week, where they took cadaver bone and placed it into my left knee (allopathy), which was in much worse shape than the MRI suggested. He had also found that my left leg had a 5% bow leg, so he worked with a company in France who makes a Titanium plate and he cuts almost 3/4 of the way through my tibia and inserts a wedge to correct the bow leg, and then screws the plate into my bone. Recovery is 6 weeks, but it is all bone, so the success rate is high.
I have qualified for and registered for the Boston Marathon this April. Unsure if I will be able to run that, I have also signed up for the 2019 Tunnel Light marathon again, hoping to qualify for the 2020 Boston Marathon. I have also registered for the Berlin Marathon in September and the NYC Marathon in November, as I now try to complete the Six Abbott World Marathon Majors, and I have four left to go; Berlin, NYC, London and Chicago.
A
longer story of my running
(and smoking) history was run in my home town news paper from Muskegon, MI before the Antarctica marathon in 2018."
We're looking to profile you, right here, in This Is Why I Run. Send your name, a running photo, and a short blurb about you as a runner to stories@tunnelmarathon.com
---