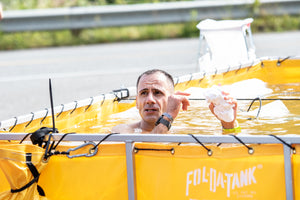 This Is Why I Run: Ivaylo Benov
Ivaylo (Ivo for short) was the first place finisher at our June 9th Light At The End Of The Tunnel Marathon!


In total, he's completed seven Marathons, two of which were part of the Tunnel Marathon series. Ivo's final finishing time was 2:33:27 putting his minute per mile pace at 5:51! Ivo is a dual-citizen between the U.S and Bulgaria – and his marathon time this year ranks him as the #1 fastest man in Bulgaria! If nobody beats his time before April 6th, 2020 then he will represent Bulgaria in the 2020 Olympics!


When asked what inspired him to get into running, he answered:


"I swam in college and then I enlisted in the army in 2004 and obviously that was something I had to be good at, you know in the Army you have to be good, so for my physical fitness test I wanted to max it, I didn't the first time. I had to go two miles in 13 minutes flat and I missed it by 18 seconds, so I kept training. My marathon pace now is much faster than what my two mile pace was back then, you know, so I kept training. Then my first deployment to Afghanistan in 2007, I did a 10k back on my base which I was lucky to win! I was fresh off the plane from high altitude. I won by four seconds, I believe, but the guy I beat was Major General Neil Hersey who was very big in the Army 10 mile teams and he encouraged me to continue competing. I kept competing when I was deployed because we were stationed in a small outpost and when you go compete you're out on the big base so you get sleep, you get food- much better food than the packages you get out on the field. I made the Army 10 mile team and so from then I decided to keep doing it. Then I got sponsored by Vibram! For me, the longer the distance, the better!"


He had recently set the record on a 50 mile run in North Carolina in which his finishing time was 5:42! Incredible!
---