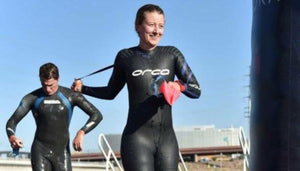 This Is Why I Run - Ariel Jenkinson
In high school, Ariel wanted to be on the track team but didn't want to run, and so tried out for pole vault. She liked it enough and was good enough that it took her to college at a Division 1 school, Seattle University. But, after graduation she was left with a big competitive hole in her life because, as she says "you cannot just go to the track and play a pickup game of pole vault."
After a few years focusing on career and moving from Seattle to Boise she met her now husband who was into Triathlons. In 2015, they rode the Seattle To Portland together, in 2016 did Olympic distances, in 2017 and 2018 did 70.3 Ironman events and have now committed to an Ironman in November 2019.
"I'm past the point when I feel like I have to win everything and that is why Triathlons seem like a great fit."
Now on the full Ironman training path, the area she needs the biggest confidence boost in is running. And so, at the recommendation of her trainer, she's coming to run the Tunnel Marathon in June. This is her first marathon and she's getting to run it with some of her Seattle friends who are also first timers.
We cannot wait to see you in June, Ariel!
We're looking to profile you, right here, in This Is Why I Run. Send your name, a running photo, and a short blurb about you as a runner to
stories@tunnelmarathon.com
---